7 Friday Feeling Office Traditions!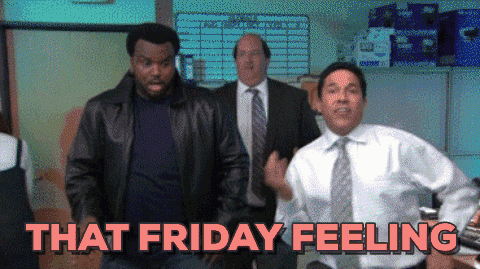 It's Friday. And after a long working week, you can finally go home knowing you have two blissful days off. Every office has its own Friday routines and traditions to celebrate the end of a busy week, so we've done our research and selected a few of our favourites!
1. Casual Dress code
It's not uncommon for a company to have casual Fridays where employees are able to step out of the suits and into something more comfortable! It's not only good for the employees but also the business because it doesn't cost a penny.
Changing the dress code once a week is a great wait to mix things up and lets you break away from the same routine.
2. Freebie Friday
This is another great idea, any food or drink usually sold at your onsite cafe becomes free. It's a fairly easy way to reward your employees for their hard work throughout the rest of the week.
You could even arrange a giveaway each week, collect a hamper of treats throughout the week and at the end, on the Friday, pull out an employee's name from a hat. That person gets to take the giveaway home and enjoy the treats over the weekend.
3. Treats
Bring in office treats for a Friday afternoon - doughnuts, cakes, biscuits - and let everyone help themselves. It's an easy way to reward your employees for their work during the past week without breaking the bank.
4. Disco Friday
Disco Friday lets employees add all their favourite songs to a playlist and have it on in the background whilst working. Keep it to a reasonable level and you'll find that employees will find it motivating, not distracting.
5. Riddle Solving or Joke Telling
Give your employees a riddle to solve throughout the day, it'll keep their brains ticking over a long Friday afternoon - the hardest time of day to stay focused! But if that's not appealing, why not tell some cheesy jokes to get everyone laughing and groaning.
6. Early Finish
If you're feeling really generous, have early finishes on a Friday. Finishing at lunchtime allows anyone who has a long commute get home whilst avoiding that horrendous rush hour traffic - everyone loves an early start to their weekend!
7. Happy Hour
Stock a fridge up with beer and for the last hour of the day on a Friday, give your employees free reign!